Chester is a beautiful city and afternoon tea in Chester is a real treat. Here are some of my favourite places in Chester for afternoon tea!
After the restrictions and government guidelines during the Covid-19 pandemic it's a little more difficult to find a great afternoon tea in Chester. Some of our favourite places have sadly closed down and others now have limited menus that no longer include the traditional afternoon tea.
But don't worry, there are still some wonderful places in Chester for afternoon tea and I will be updating this list as places reopen or new businesses are welcomed to the city.
The Chester Grosvenor
Best for: Celebrating a special occasion
The Chester Grosvenor is probably the most famous place in Chester for a luxurious afternoon tea. The grand 5* hotel stands proudly in the city center looking out to the famous Eastgate Clock.
Afternoon tea has been served in the magnificent gallery and drawing room since 1882, so they've had  a few years to perfect it! Guests can choose from a traditional afternoon tea, indulgent afternoon tea or a 'gentleman's afternoon tea'. Don't worry ladies, the gentleman's afternoon tea is available to all! Delicate sandwiches are replaced by heartier options such as crispy haddock, coronation chicken and Appleby's Cheshire cheese served on freshly baked bloomers.
Chester Zoo
Best for: Animal lovers or afternoon tea in Chester with kids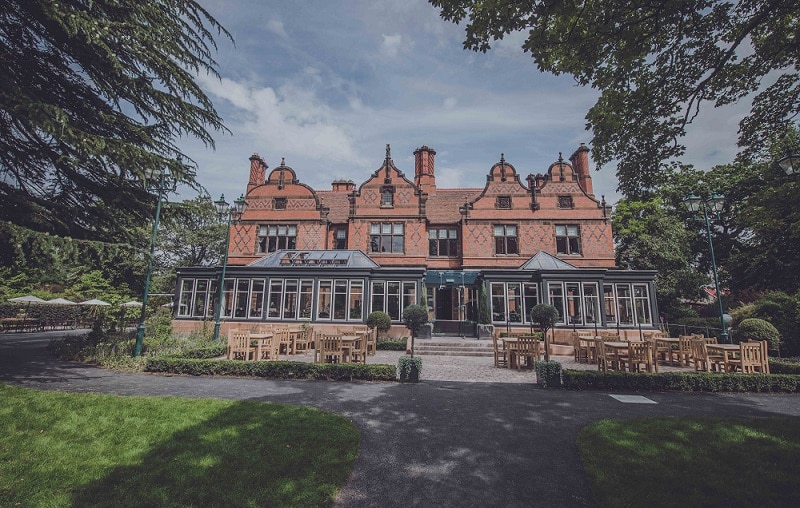 If you're looking for an extra special afternoon tea in Chester then why not head to the zoo!? Spend your morning strolling through the zoo, searching for animals and admiring the glorious gardens. And then when you need a rest head to The Oakfield, a contemporary British pub in the centre of the zoo.
You will need to buy tickets to enter the zoo but what a gorgeous place to escape from the hustle and bustle while you're there. A traditional afternoon tea is served but the real appeal is the beautiful setting. The Oakfield is an incredible Grade II listed building that has been beautifully restored. There's a luxurious yet cosy and welcoming atmosphere that's perfect for families, couples or friends.
Oddfellows
Best for: A unique afternoon tea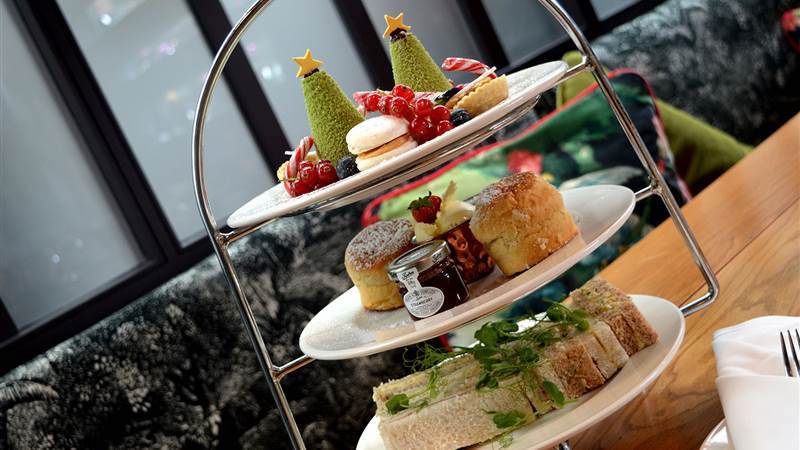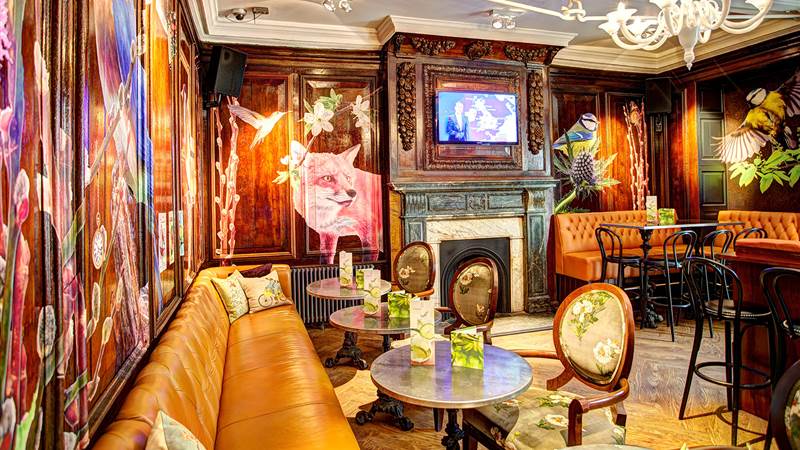 Oddfellows is a charming, boutique hotel in Chester city centre. The decor is quirky, playful and bright and it's the perfect place for afternoon tea in Chester. There's a range of afternoon teas available from the traditional to savory, cream tea, prestige, just finger sandwiches and even a children's afternoon tea.
If possible, I highly recommend requesting your afternoon tea in the secret walled garden where you'll be joined by cheeky gnomes, gorgeous blooms and (hopefully!) some sunshine.
The Grosvenor Pulford, Palm Court
Best for: Combining afternoon tea in Chester with a spa day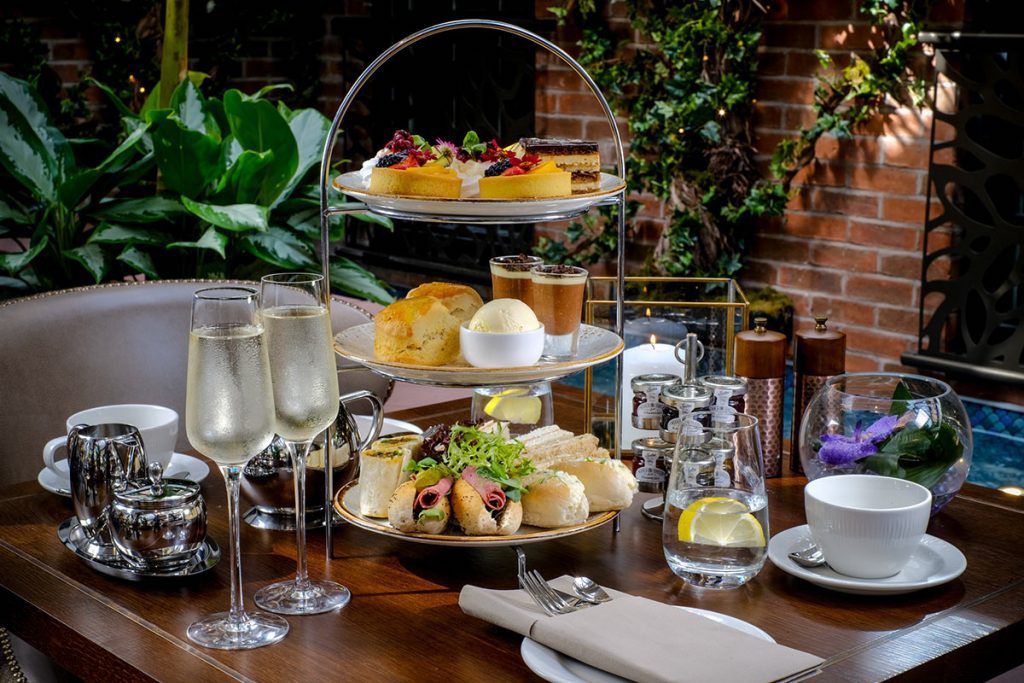 Another 'Grosvenor' so don't get confused! The Grosvenor Pulford Hotel and Spa is a few miles outside of Chester but it's worth it for afternoon tea at Palm Court. The stunning hotel is on the border of North Wales and has lovely gardens and a luxurious yet homely vibe.
The main restaurant, Palm Court, is bright and airy garden room filled with plants and magical twinkly lights.  Afternoon tea is a delightful experience with lots of options for drinks, whether you'd like to choose from an array of loose leaf teas, Prosecco, champagnes, G&T's or cocktails.
The spa at The Grosvenor Pulford is also gorgeous, so if you're looking for a full day out then I highly recommend combining a spa day with afternoon tea for a luxurious treat!
The Townhouse Secret Garden
Best for: Instagramming your afternoon tea
The Townhouse Secret Garden is an Instagram addict's dream! I mean, there's a flamingo corner, what's not to love! This cosy, walled garden is bright and colourful and the afternoon tea is just as good as the playful decor. It's part of Chester Townhouse, a stylish independent hotel within the city's historic Roman walls.
There's a traditional afternoon tea menu with the option to upgrade to 'endless Prosecco' which is available for 1.5 hours!
Palm Chester
Best for: A pink and girly afternoon tea in Chester
https://www.instagram.com/palmchester/
If you like all things pink and girly then you're going to love Palm Chester. It's a cocktail bar and eatery on Watergate Street that comes with a side of glitter in this Prosecco powered pink paradise.
Afternoon tea at Palm Chester offers a modern twist with a pan-fried chicken slider and New York salmon bagel which – after researching this article and reading about nothing but coronation chicken finger sandwiches – is a welcome change! You can upgrade to Prosecco or cocktails and there's also a lovely kid's afternoon tea menu that I'm sure all little princesses would love!
Zuger's of Chester
Best for: A casual afternoon tea
Zuger's of Chester on St John Street is a friendly and welcoming tea room with a traditional afternoon tea menu that keeps locals coming back again and again. This is the place for a good old fashioned afternoon tea, friendly service and nice, long catch up with friends.
This post was originally published on The Travel Hack.