On-the-job fatalities in the construction industry continue to rise, but what's most eye-opening is that, as of 2017, transportation incidents have become the leading cause of death at construction sites. In most of the cases, these deaths could have been avoided if workers had proper training.
According to the Bureau of Labor Statistics' 2017 National Census of Fatal Occupational Injuries (CFOI), transportation incidents remained the most frequent fatal workplace event, accounting for 40% of all occupation-related fatalities. Of those deaths, 47% came from the construction and extraction work categories. This marks the first time that vehicle-related deaths topped falls as the leading cause of deaths at construction sites.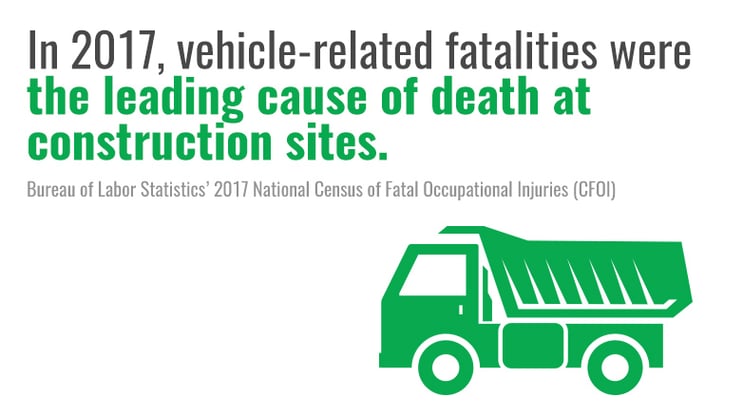 A study published by the Center for Construction Research and Training looked at deaths that occurred on construction sites between 2011 and 2015. It found that vehicular deaths on construction sites are most commonly the result of being struck by a vehicle in a construction work zone or being struck by equipment. The majority of these incidents take place in work zones, although about 19% of struck-by incidents happen off roadways.
Death by non-collision incidents, such as overturned or jackknifed vehicles, also are a fairly common cause of death at construction job sites.
What's Causing More Fatalities?
Part of the uptick in the number of deaths is attributed to the nationwide construction boom, which attracts a large number of temporary and contract workers. Such workers may not always be in compliance with safety regulations, and they might not be aware of some of the dangers of a job site. And, because they change job sites often, they can face new or different dangers each time they work at a new site.
New, inexperienced construction workers also are at greater risk for incidents on the job, according to the Toronto-based Institute for Work & Health. In fact, workers in their first month on the job are at more than three times greater risk for injury than those who have been on the job for a year or more.
But it's not just inexperienced workers who are at increased risk; older workers face challenges as well. The CFOI found a direct correlation between the age of workers and the rate of fatalities on the job. In its most recent survey, workers over the age of 55 had the highest number of workplace deaths since the census began in 1992, up from 20% then to 36% in 2016.
Making Sites Safer
Keeping construction workers safe is both a challenge and a priority for managers. While considerable information and safety training is provided on proper protective clothing such as gloves and boots, it's also important to make sure all workers are aware of vehicle dangers on the job site.
Let's look at seven ways managers can make sure they're creating a safer construction site when it comes to vehicle operation.
Inspect Vehicles Daily.
At the beginning of each shift, a vehicle pre-trip inspection be conducted on all vehicles to ensure that their horns, lights, tire treads, brakes and reverse alarms are all in good working order. A policy should be in place to report vehicles that aren't working properly and taken out of service until the proper repairs can be made.
Use a Spotter — Always.
Drivers should be trained in the use of their vehicles and equipment, but also must know that they are only allowed to back up with the help of a spotter. Spotters should always wear high-visibility apparel, be trained on the vehicle's blind spots and know how to effectively communicate with the driver.
Install Warning Systems.
Proper warning systems should be in place to alert workers as well as passers-by of the presence of vehicles. Monitoring technology such as video cameras and additional mirrors on construction vehicles can further help drivers become aware of pedestrians around them.
Eliminate Distractions.
The use of personal cell phones or headphones creates distractions in any environment but can be fatal on a construction site. Eliminating them from the job site can improve attention and reaction time.
Direct Construction Traffic and Vehicles Away From Workers.
Work sites should be designed to minimize backing and also should make sure that traffic flow is designed to avoid workers on foot as much as possible.
Post Signs to Indicate Traffic Areas and Vehicle Flow.
Job sites can change from one day to the next, so make sure changes are clearly indicated and that it's obvious which areas are designated for traffic and the direction of vehicle flow. Each worker should know which areas are worker-free zones and where vehicles and equipment will be operated.
Provide Hands-on Driver Training.
Training on equipment is critical, but learning good behind-the-wheel habits is necessary for anyone who drives as part of his on-site duties. Learning vehicle blind spots and best practices for backing as well as knowing how best to maneuver in close quarters can create better drivers and, in turn, establish a safer job site.
Whether it's a heavy haul truck or a pickup truck, construction sites are home to vehicles that can present safety challenges if not handled properly. Emphasizing driving safety just as much as other safety measures is a valuable investment in the future of your company as well as the lives of your employees.
This post was originally published on SmithSystem.