The global transportation industry is predicted to grow at a CAGR of 3.4%  through 2027.
(Reaching a value of $7.8 trillion by 2027.)
Though a positive outlook overall, the growth of the industry is much less robust than pre-pandemic estimates of 19.8% growth.
Across many sectors in the transportation industry, including logistics, rail, trucking, infrastructure, and passenger vehicles, there are trends in technology and micromobility that will likely shift the way we think about transportation in the coming years.
Keep reading to learn more about the important trends in the transportation and logistics industry for 2021 and beyond.
maas goes mainstream
The MaaS Alliance defines MaaS as an "integration of various forms of transport services into a singlemobility service accessible on demand."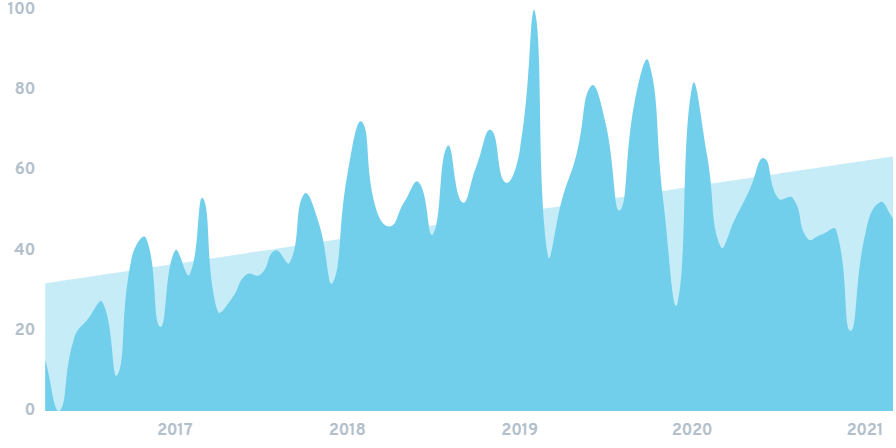 Searches for "mobility as a service" have increased 250% over the last 5 years.
With MaaS becoming a more notable trend in transportation, MaaS revenues are projected to reach $1 trillion by 2030.
A major tenant of MaaS is integrating multimodal transportation that focuses on the customer's destination rather than the mode of transportation.
It also seeks to provide demand information, transport, and payment through one platform or app.
In cities, this means people will have more access to real-time data to make informed choices about their mode of transportation on any given trip while being able to pay using a single platform.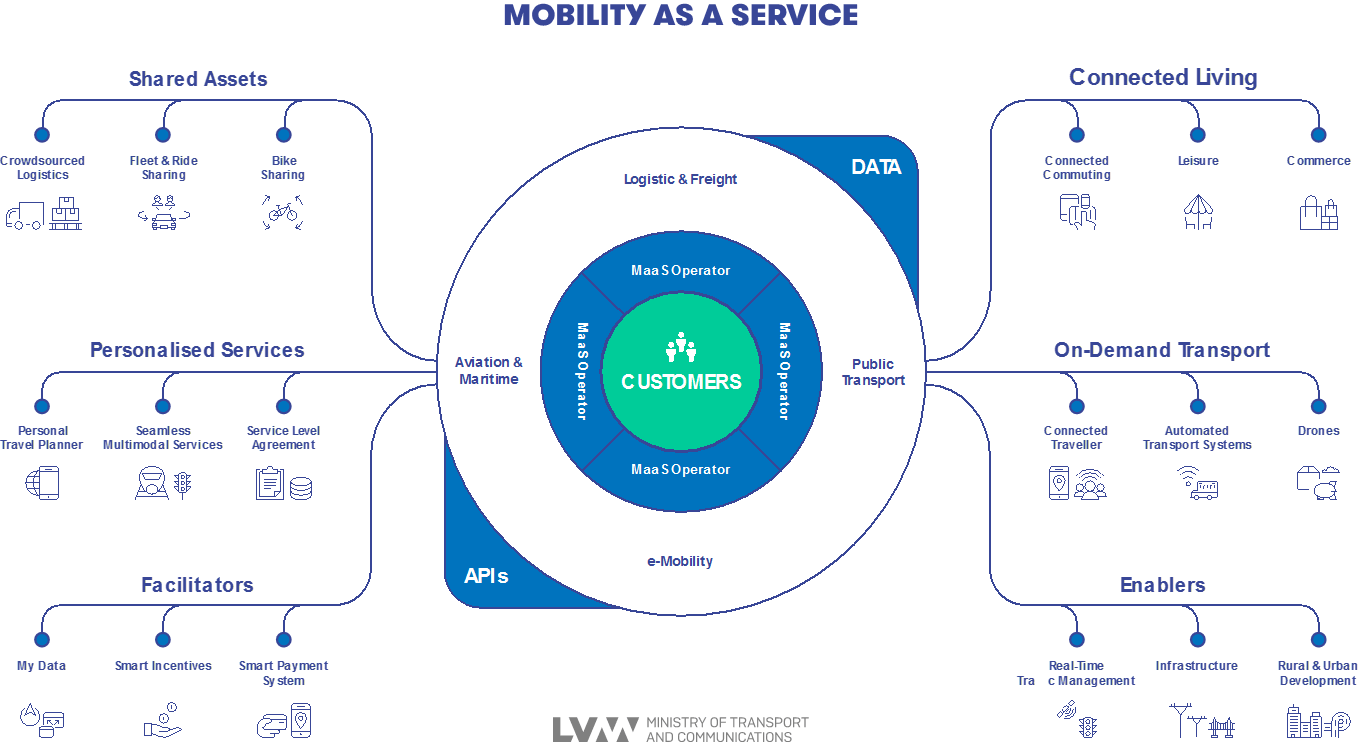 Finnish Ministry of Transport and Communications summary of Mobility as a Service from SFMCON.
What is driving this shift towards MaaS?
The UN predicts that urbanization will only increase in the coming years. With 68% of the world population projected to live in urban areas by 2050.
Yet the transportation infrastructure in place is struggling to provide mobility to those who currently live in cities.
In fact, it's estimated that the US has lost $87 billion due to congestion alone.
Also, traffic congestion has been shown to create pollution that negatively impacts mortality and emissions that hurt the environment.
In a recent report by the policy organization Transport For America, they argue that rather than widening roads or expanding urban sprawl, to truly address the root cause of congestion would mean using technology to "measure the time, speed, and convenience of travel by all modes of transportation…investments that make travel more efficient in real terms instead of investments that simply encourage more driving."
In other words, investments in infrastructure and technology encourage the efficient use of transit.
MaaS is one of those technologies.
Flexible and data-driven transportation like MaaS can mitigate the issues around traffic congestion environmental concerns all while providing a better value proposition for businesses.
(Not to mention saving users up to $5,600 annually.)
MaaS apps and solutions have already begun to pick up steam.
Moovit is an app that plans journeys across multiple modes of transportation in cities and allows local transit to customize the interface and collect data.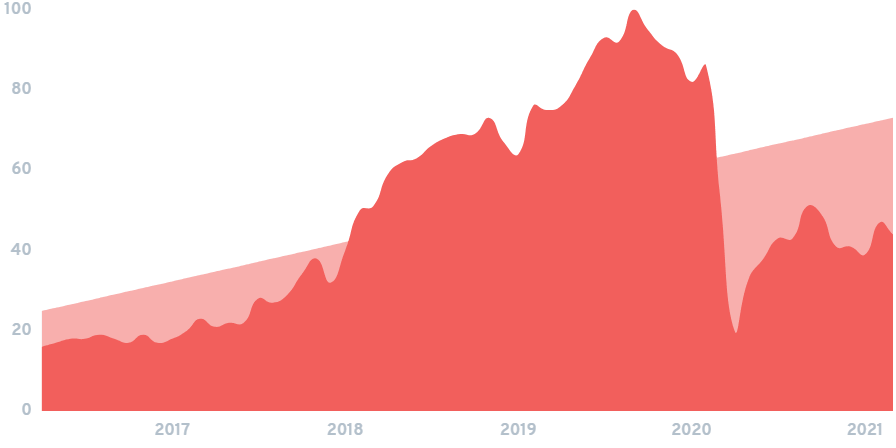 Though searches for "Moovit" have peaked, there is still moderate search interest increasing 175% over the last 5 years.
increased last-mile delivery efficiency
Ecommerce was up 44% in 2020 compared to the previous year.
Largely due to many people ordering online what they usually picked up from the store.
For example, Amazon Prime Day sales increased 36% in 2020 compared to 2019.
Even after the pandemic, Mckinsey predicts that e-commerce will continue to remain elevated up to 13 percentage points above 2019 levels.
As a result, the last-mile delivery market is expected to expand at a CAGR of 20.3% from 2021 to 2030.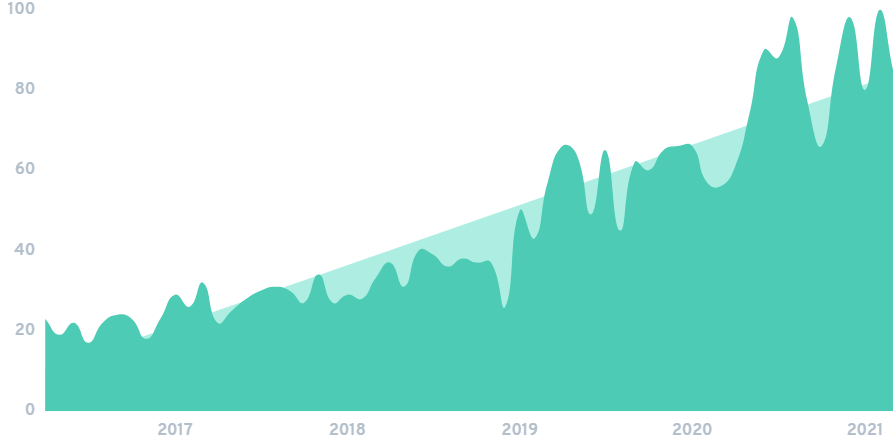 Searches for "last mile" have increased 269% in the last five years.
The last-mile in transportation is the final leg of a good's transport directly to the door of a consumer.
In past years, the major portion of transportation was made up of shipping from manufacturers to warehouses, and from fulfillment warehouses to stores.
Today, the final mile of a good's transport now represents 53% of the cost of transportation.
For consumers, this means a more convenient shopping experience.
But for businesses and logistics companies, this represents a growing expense.
An expense that will create a need for more efficient methods that utilize technology like AI, autonomous vehicles, and crowdsourcing.

Autonomous vehicles (including drones) are one way the transportation and logistics industry it reducing the cost of last-mile deliveries.
A well-known example of crowdsourcing technology for last-mile deliveries are companies like Uber Eats, Postmates, and Cornershop.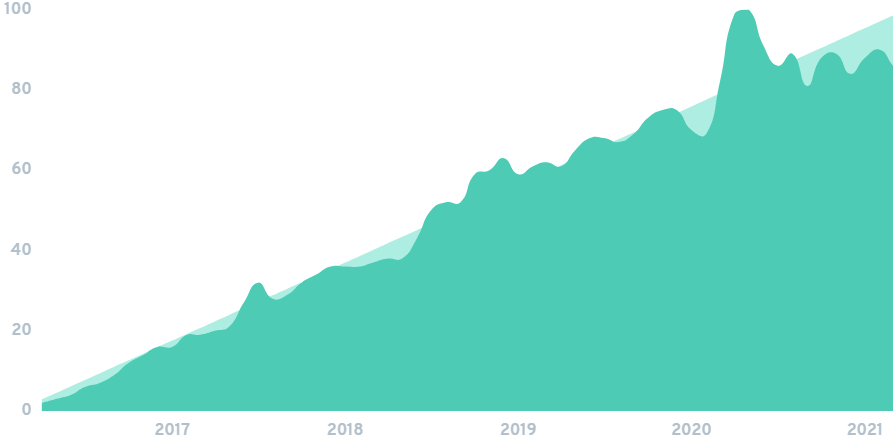 Interest in "uber eats" has increased 4200% over the last five years.
the transportation industry invests in electric vehicles
Though the push for electrifying commercial and passenger vehicles is not brand new, 2021 will likely be a crucial year for electric vehicle growth.
While vehicle sales dropped 29% in the first three quarters of 2020, electric vehicle sales increased 119% over that time.
"After years of speculation and empty promises, 2021 is actually shaping up to be a pivotal year for growth in the EV sector," says Jessica Caldwell, executive director of insights at Edmunds, a consumer car information database.
One reason for this growth is an increasing number of diverse electric vehicle options:
It's estimated that 30 EVs from 21 brands will hit the market in 2021.
One emerging option is the plug-in hybrid, a vehicle that can run either as a hybrid or as a fully electric vehicle.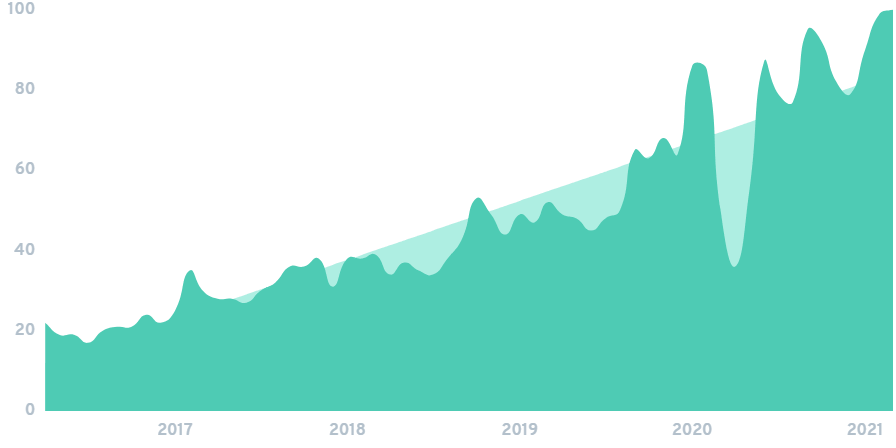 Searches for "plug-in hybrid" have increased 309% over the last five years.
Toyota is among the automakers expanding their EV offerings, recently announcing a new RAV4 for 2021 that is a plug-in hybrid SUV, a formerly uncommon configuration for large vehicles that will likely capture a new market segment.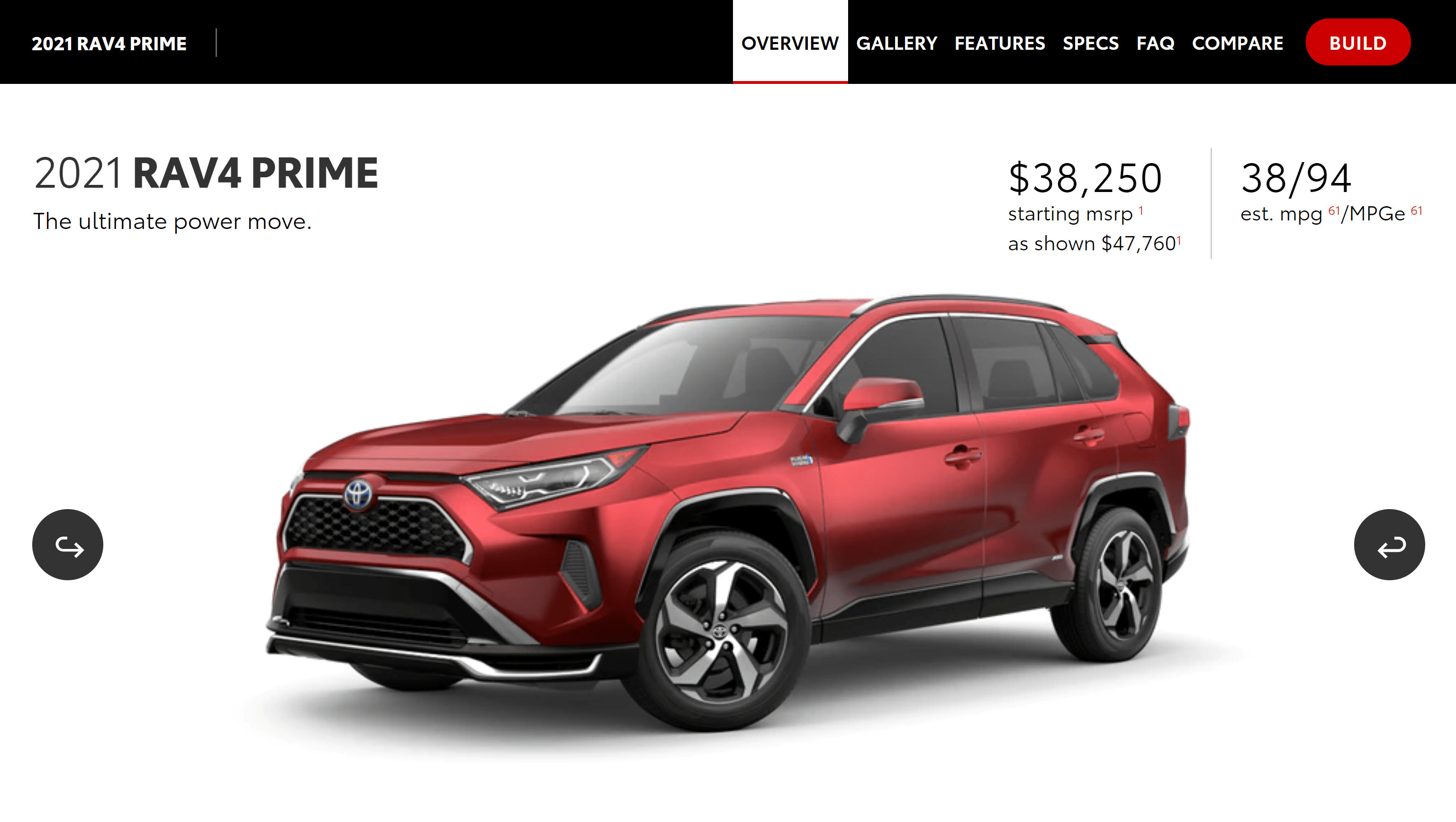 Toyota's new plug-in hybrid RAV4 SUV.
The push towards electric also includes commercial transportation vehicles, like vans and semi-trucks.
As large freight trucks are responsible for 26% of all highway-based fuel consumption, there's growing support for commercial electric vehicles.
The UPS ordered 10,000 electric fleet vehicles from electric truck company Arrival in 2020.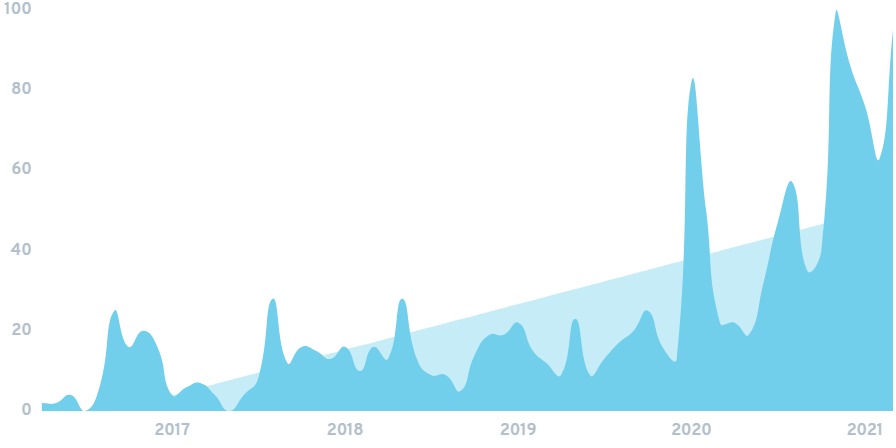 Search interest in "arrival" has increased 4650% over the last five years.
Additionally, in November 2020 DHL began piloting BYD electric trucks capable of carrying 82,000 pounds of cargo.
Both Tesla and Nikola are projecting 2021 start dates to begin manufacturing their electric semi-trucks.
These manufacturers contribute to the estimate that the global electric truck industry will experience a CAGR of 25.8% from 2021-2027.
Among other modes of transport, all-electric airplanes and electric ships are further on the horizon, with some estimates project fairly mainstream use by 2030.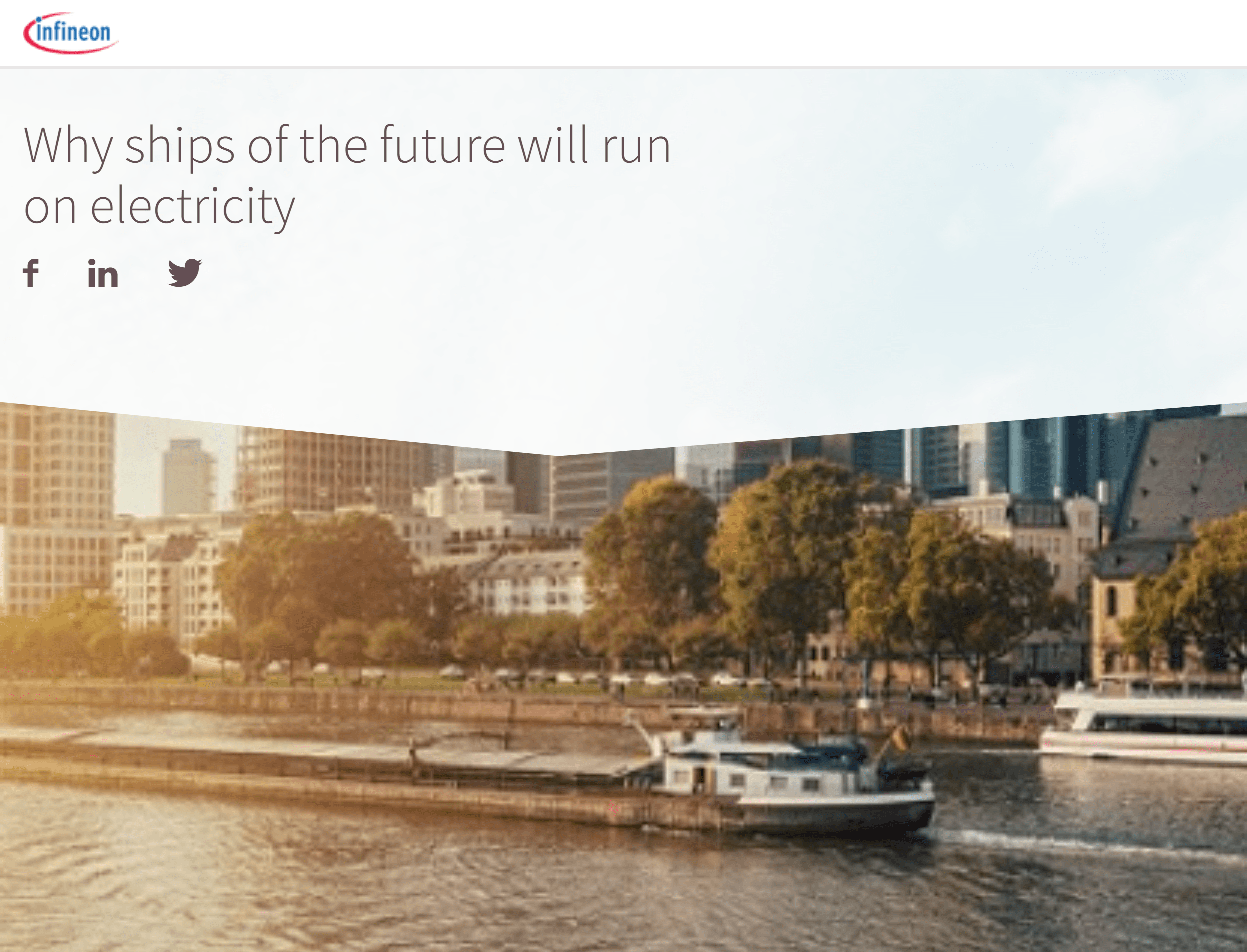 Electric ships may be relatively commonplace by 2030.
renewed focus on transportation accessibility
The gaps in public transport access and mobility technology often disproportionately affect underserved communities.
Low-income and minority communities are more likely to have lower accessibility to transportation and greater exposure to pollution.
For those with disabilities, transportation services can be much more difficult to access.
One study found that it took five times longer to wait for wheel-chair accessible vehicles through rideshare apps. And were only successful at all 55% of the time.
Carol Schweiger, co-chair of the Transportation Research Board predicts that in 2021, "equity will be directly addressed, in part, through technology firms and public sector agencies identifying and using equity metrics in the development and deployment of technology-enabled mobility services."
As the body of research grows the importance of inclusive mobility, equitable transportation will become more prevalent—but what changes can we expect?
Emerging technologies that enable micro-mobility are one of the key players in creating more equitable transportation.
For example, the scooter-sharing app, Tier names the goal of empowering people to move in a frictionless and inclusive way.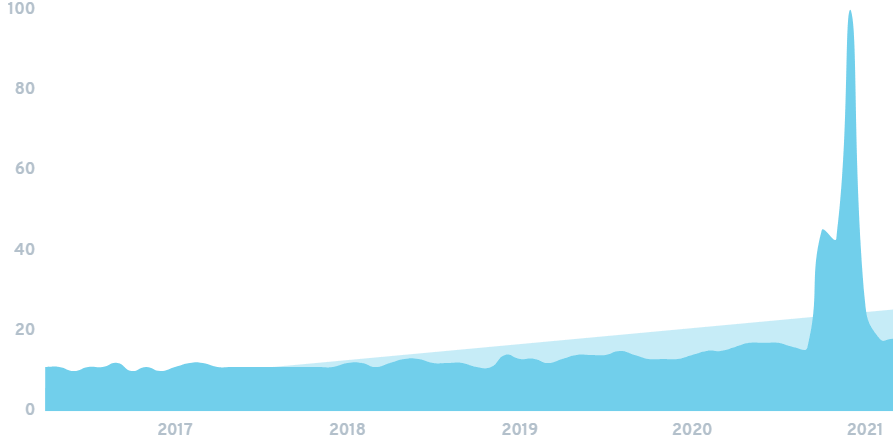 Searches for "Tier" have increased 70% over the last five years.
Shifts towards more equitable transportation may also see expanded public transportation options, especially rail.
A study published in the Journal of Public Transportation evaluating the transit equity between low-income and others' access to transport found that cities with the most equity had both rail transit and fixed-route bus service.
However, the success of both these emerging trends in addressing mobility inequality relies on utilizing data that includes underserved populations.
The collection of this data is the mission of the Impact of Transformational Technologies on Underserved Populations project.
The project is set to complete in November of 2021, with a goal of "[developing] a playbook with guidance on corrective actions with data, methods, and metrics to achieve inclusive mobility."
Additionally, research tools like the equitable transit-oriented development (eTOD) map provide a visualization of how access to transit creates affordable housing and sustainable communities.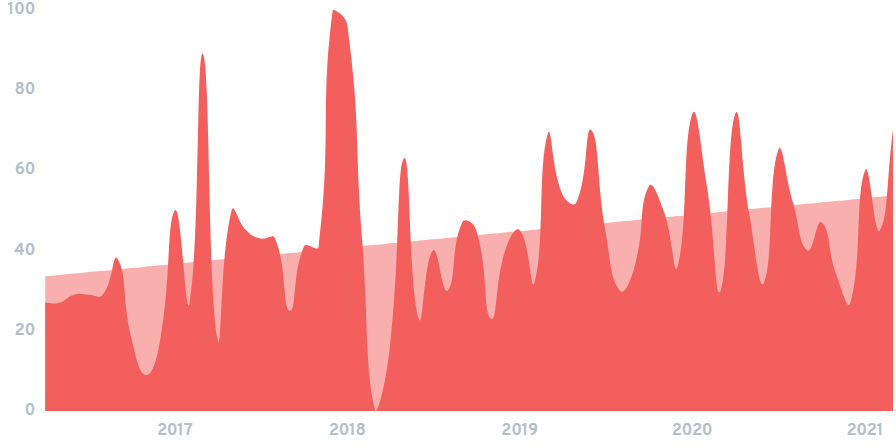 Searches for "eTOD" have increased 237% in the last 5 years.
major workforce shifts in the trucking sector
A large topic of discussion in the trucking sector is the major labor shortage.
In 2019, the industry was short roughly 59,500 drivers.
Despite an increased need for transport during the pandemic, companies lost even more drivers, resulting in a 71,000-employee shortage by September of last year.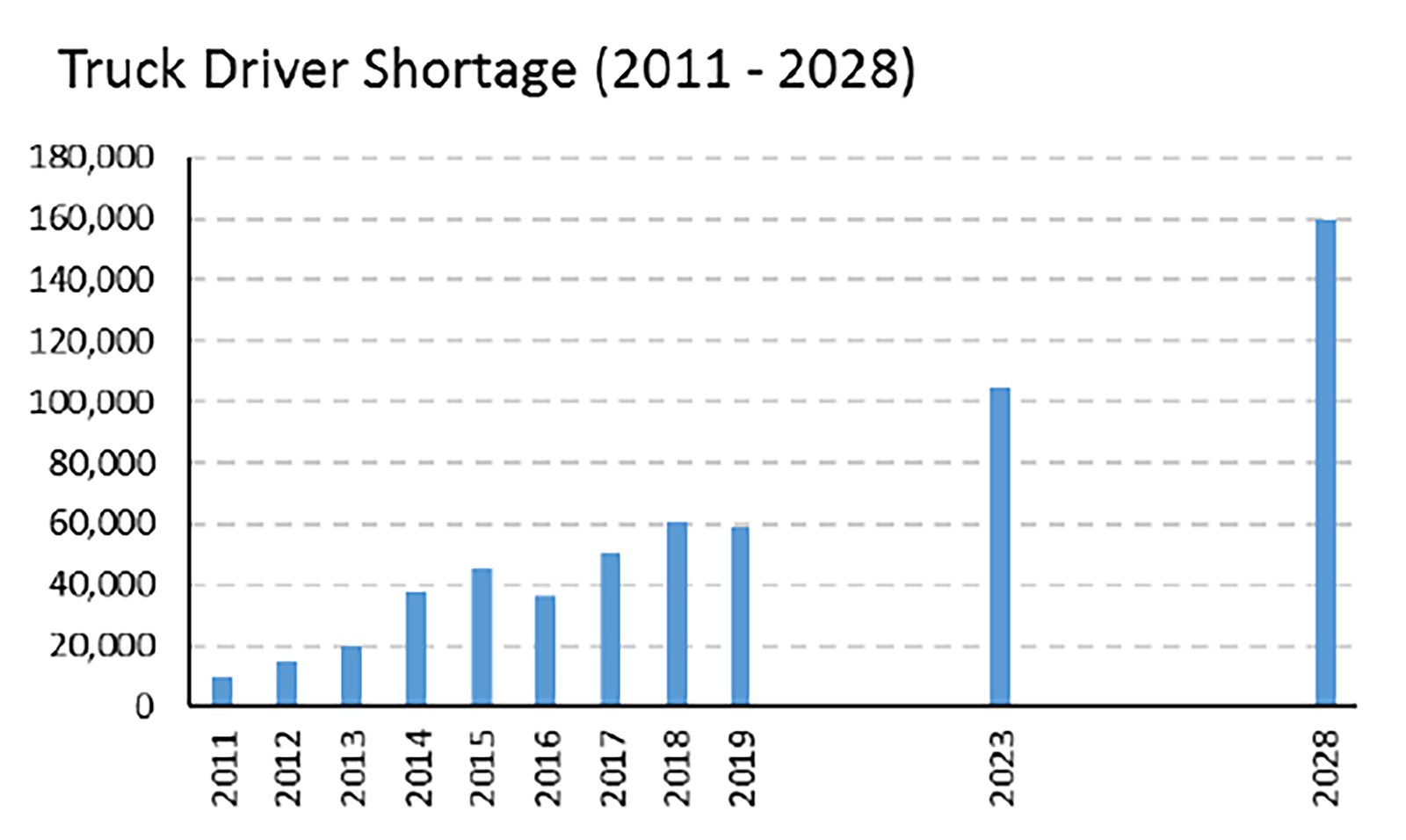 Truck driver shortage predictions from the American Trucking Association.
One possible cause is that the average truck driver is 46, meaning they reach retirement age more frequently than other workforces.
In addition, the work conditions that require long solitary hours and assumptions about the role turn many away from the work, especially women.
The ATA's recommended efforts to combat this include increasing driver pay and home-time, lowering the driver age, initiatives to change the image of truckers, supply chain improvements.
increasing interest in active transportation
Active transportation is the term for the many different kinds of human-powered transportation like walking, biking, and scootering.
After the huge surge in cycling during the pandemic, cities are still adding more bike lanes to encourage micro-mobility.
As a part of New York's Vision Zero bill, the city will add bike lanes to the Brooklyn and Queensboro bridge.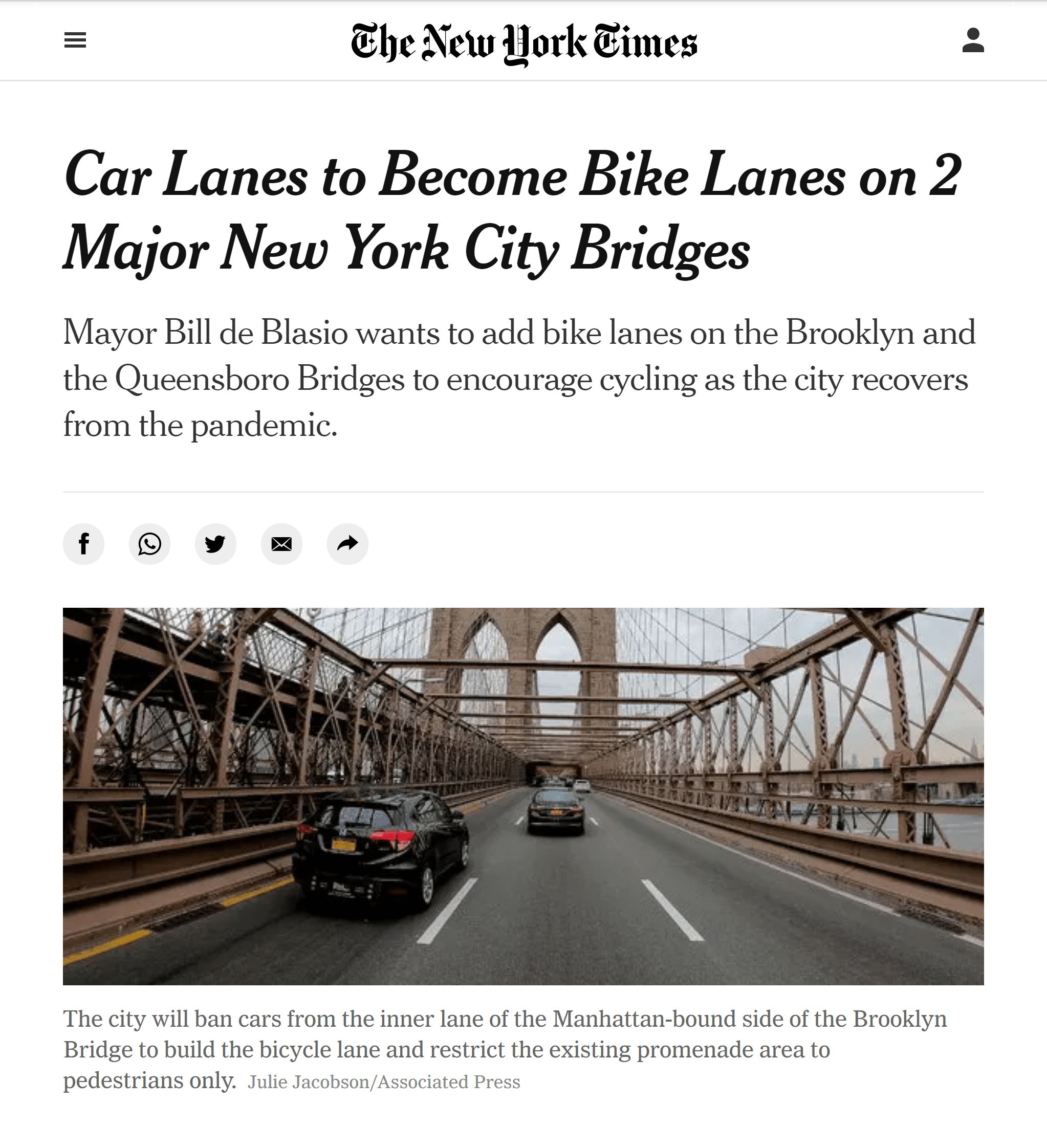 Bike lanes are being added to many NYC streets and bridges.
Though not the same as powered transportation, the U.S. Department of Transportation asserts that it is still the responsibility of the transportation infrastructure and industry to design for active transportation opportunities.
This includes designing complete streets that enable many modes of travel with bike lanes and sidewalks.
On a large scale, this may mean designing for complete trips.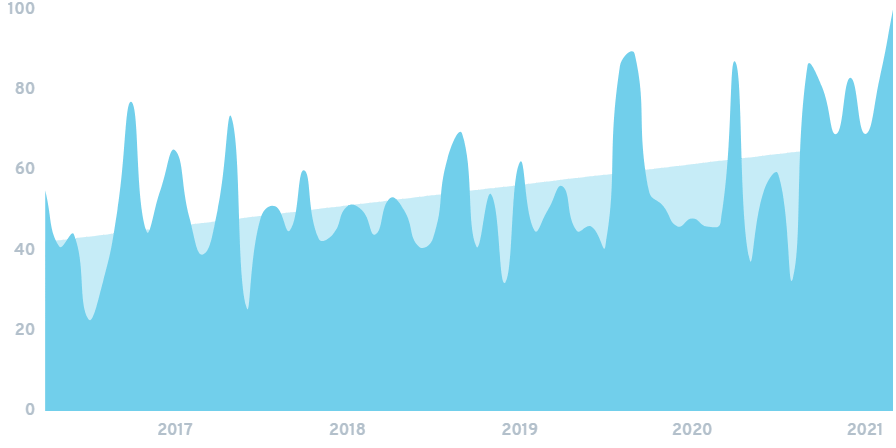 Search interest in "complete trip" has increased 233% over the last five years.
Several governmental initiatives are leading the way towards complete streets and active transportation.
In January 2021, the U.S. Department of Transportation awarded $38 billion through its Complete Trip – ITS4US Deployment Program.
The projects selected "enable communities to showcase innovative business partnerships, technologies, and practices that promote independent mobility for all."
The Moving Forward Act was passed in The House in July 2020 and supports increased accountability for pedestrian and cyclist injury.
technology improves overall transporation efficiency
With traffic congestion high, costs for delivery rising, and a year that underscored the unpredictability of travel patterns, there is a demand for technology that can help many sectors of transportation work more efficiently and react to real-time changes in conditions.
For example, Minneapolis launched its NexTrip system in late 2020.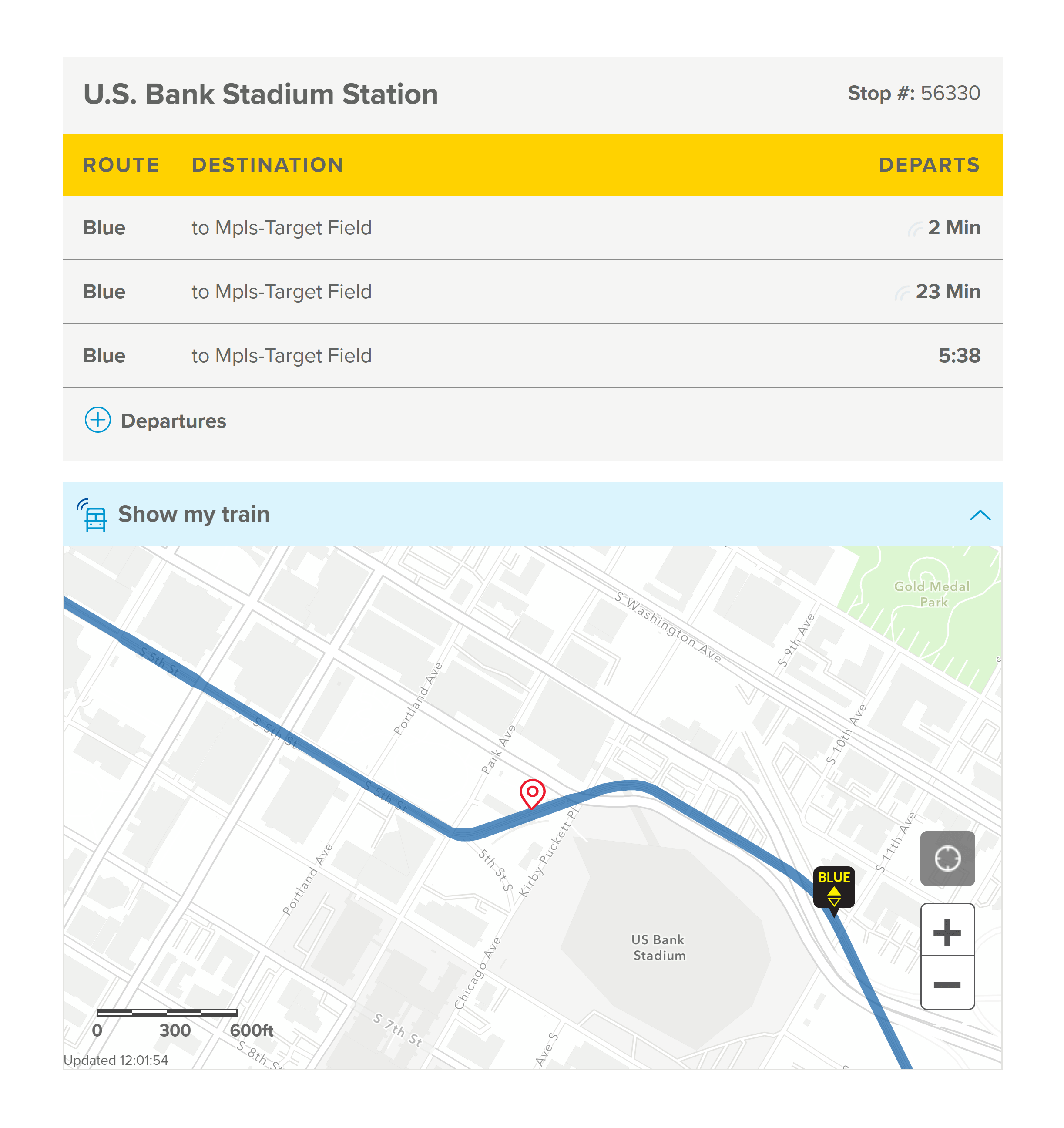 Minnesota's NexTrip system in action.
This system incorporates a prediction algorithm that works on data over time and can adapt to unexpected events.
L.A. Metro launched a new Metro Micro service in December of 2020 that offers on-demand in areas it had been hard to find fixed routes.
Demand-responsive transport, also known as microtransit, provides a type of transit that can be scheduled.
This type of transit is more flexible than scheduled routes but improves congestion more than ride-hailing services.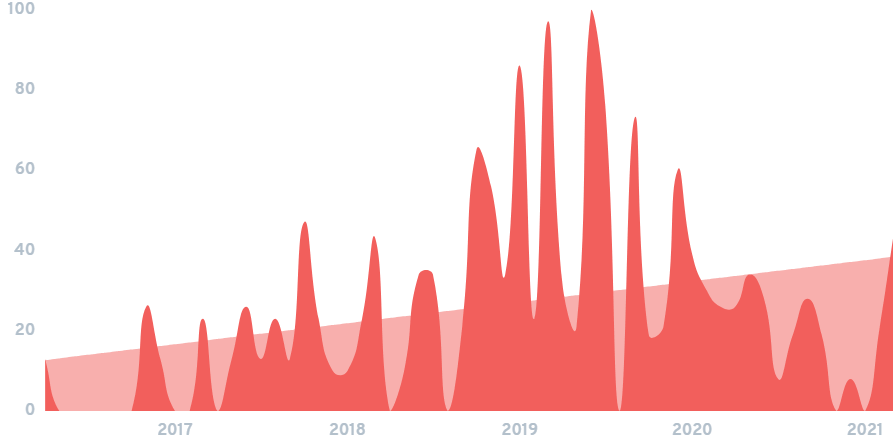 Searches for "microtransit" have increased by 2000% in the last five years.
For the trucking and mass delivery industry, rises in costs are also driving technological change.
Peloton Technology is using telematics, or direct vehicle to vehicle (V2V) communication, between trucks on the road to organize trucks into formations following closely behind each other.
This method, called platooning, saves more than 7% in fuel costs.
Large freight trucks are now more commonly equipped with IoT sensors that can monitor the condition, stability, and location of the cargo.
For example, Geotab provides devices that connect commercial vehicles to the internet and provide data analytics to assist in fleet management.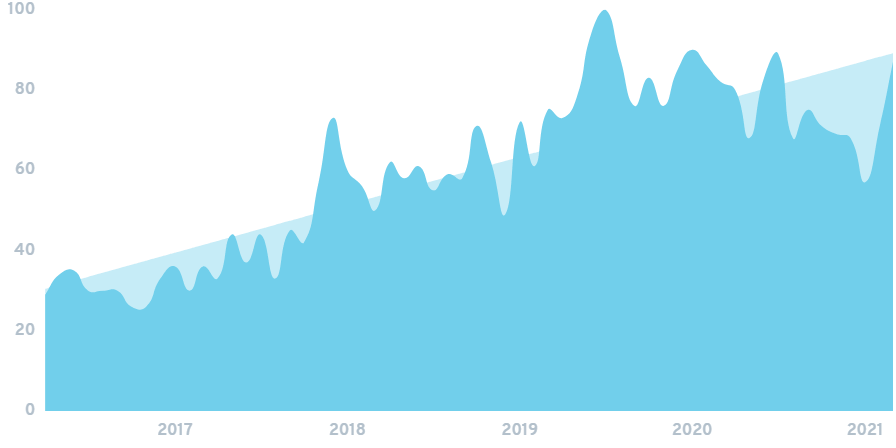 Search interest in "geotab" has increased 222% over the last five years.
Shipping companies will also likely make use of big data and AI data processing offered by companies like Transmetrics to forecast shipping needs and plan efficient routes that minimize the risk of accidents.
conclusion
That just about wraps up this list of important transportation industry trends.
Like many other industries, the transportation space experienced quite a bit of disruption due to the pandemic.
Though each subsector is affected differently, overarching trends towards greater micromobility, transportation access, and efficiency technologies are happening throughout the industry. And over the long-term, should help the space grow.
This post was originally published on ExplodingTopics.